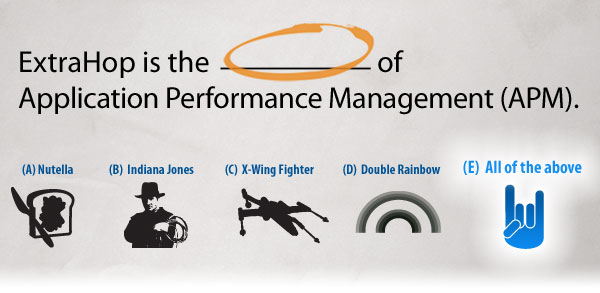 Fill in the form to schedule a demo. We'll make sure you get an ExtraHop "(E) All of the above" mug and a bag of Seattle-roasted coffee beans.
---
ExtraHop is a radically better way for IT Operations to manage application performance.
The first time you tasted Nutella, you thought, "Chocolate and hazelnuts...why didn't someone think of this before?!" That's how IT Operations teams respond to the real-time, cross-tier visibility provided by the ExtraHop system.
The way that applications are built and run today is radically different than 15 years ago, yet most APM vendors still use the same technology approaches. The ExtraHop system is an elegant alternative to legacy APM tools that rely on host-based instrumentation. For IT Operations teams managing the performance of numerous applications, ExtraHop is like...
...Nutella, one of those strokes of genius that should be obvious but that no one's thought of before.

...Indiana Jones, who is always triumphant in the face of formidable odds—even against entire brigades of enemy soldiers.

...the X-wing fighter, powerful, deadly accurate, and agile enough to penetrate the outer defenses of an orbital battlestation.

...a double rainbow, a transcendental, soul-baring experience that will make you weep with incoherent joy.
What other notable figures or achievements can we compare ExtraHop's network-based APM to?
ExtraHop is the Aung San Suu Kyi of APM. A charismatic opposition leader, Aung San Suu Kyi has become a symbol to those who dare to fight against entrenched and corrupt institutions. ExtraHop is revolutionizing the APM market with a unique network-based approach to APM that uses zero bandwidth, zero system resources, zero configuration, and yet provides a rich stream of real-time health and performance information.
ExtraHop is the Burj Khalifa of APM – The tallest building in the world, rising improbably out of the Dubai desert, the Burj Khalifa is a testament to the abilities of human engineering to overcome seemingly impossible obstacles. The ExtraHop system is engineered to take full advantage of recent advances in storage and processing power to provide an unmatched level of analysis for tens of thousands of transactions per second.
ExtraHop is the SPARTA! of APM. King Leonidas and his 300 Spartans withstood a million-man Persian invasion at Thermopylae for three days, earning legendary renown. Equipped with the ExtraHop system, IT Operations personnel will feel similarly heroic as they scale their web applications to billions of transactions per second without flinching.
ExtraHop is the red pill of APM – Morpheus offered Neo a choice: Take the blue pill, and he'd wake up wondering whether it was all a dream. Or, take the red pill and find out how deep the rabbit hole goes. IT Operations teams have a similar choice to make with ExtraHop. With Application Inspection Triggers in the ExtraHop system, the possibilities for customized analysis are endless.
ExtraHop is the Tesla Roadster of APM. The Telsa Roadster eschews traditional combustion-engine technology to achieve far greater efficiency and performance than other sport cars. Similarly, the sleek ExtraHop system uses an elegant network-based approach to APM that avoids traditional methods of measuring performance such as polling, synthetic transactions, and host-based instrumentation.
ExtraHop is the vitamin D of APM. An essential vitamin for a healthy body, vitamin D is believed to boost the immune system and enable the efficient absorption of other vitamins and minerals. The ExtraHop system enables IT teams to similarly improve the health and performance of their application environments by eliminating bottlenecks and increasing goodput.
ExtraHop is the Iron Chef of APM. Television viewers love Iron Chef because of the masterful culinary skill demonstrated on the show. The ExtraHop system exhibits the same characteristics of precision, speed, and beautiful presentation in the way that it slices and dices application protocols, deftly reassembles transaction flows, and then serves up piping-hot health and performance metrics.
ExtraHop is the pit bull of APM. No other dog matches the pit bull's tenacious strength and spirited eagerness; no other APM solution matches the ExtraHop system's ability to analyze transactions passing over the network at wire speeds—up to a sustained 10Gbps. The ExtraHop system is designed from the ground up for multicore processing with a purpose-built streaming datastore for unparalleled performance.
ExtraHop is the Gordon Freeman of APM. Intellectually brilliant, resourceful, and a Seattle native, Dr. Gordon Freeman single-handedly battles hostile alien hoards. Self-sufficient and also born in Seattle, the ExtraHop system is a self-contained appliance that simply plugs in and starts discovering and classifying devices and applications based on its own transaction analysis.